Main Content
By FCS News Members: Cara Davis and Whitney Barker
The Facilities & Campus Services Department of Wake Forest University has opened its doors and hearts to many Winston-Salem/Forsyth County school teens through a program known as the 'Satellite Program'. As a new employee to the F&CS department, I found myself hearing about, seeing, and eventually working with Satellite Program student employees. However, I did not know the answers to my main questions: Who? – What? – Where? – When? – How? – Why? I wanted to know more about the program and how it started here at Wake Forest University.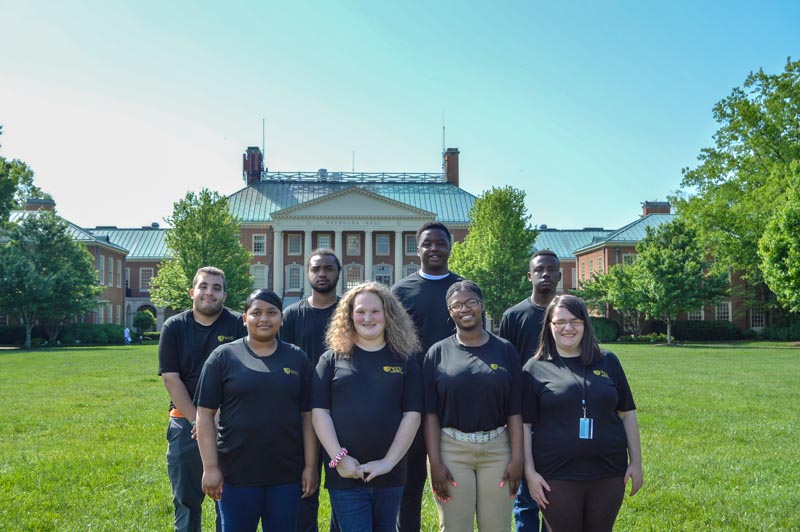 Pictured: Jihad Ali, Sean Wells, Izaiah Blue, Treyvez George, Diana Toribio, Sierra Davis, Nautica Washington, and Lee Ann Ingle
Did you know…
The Satellite Program, formerly known as 'Project Dream', started at the Graylyn Conference Center in 1999. Christy Lennon, Senior Partner for Wake Forest University Human Resources, was approached about the program when she was the HR Manager at Graylyn. 'Project Dream' began with the Carter Vocational High School, but has grown to cover all of the Winston-Salem/Forsyth County High Schools. This program was built as a part of the community-based vocational training program, but has now expanded and became part of the occupational course of study for those students on the vocational pathway in Forsyth County high schools.
"This program is a wonderful opportunity to encourage vocational and/or trade skills…"
while providing the Wake Forest campus with an outreach program that brings our community closer together. Christy has helped to oversee and partner with the WFU Satellite Job Coach/W-S Forsyth County Schools Exceptional Children's Transition Department employees: Deborah Doub and Sandra Courtner (retired) through the years. They have helped our F&CS managers and team leaders with the yearly April/May interview process, on-boarded the students through Human Resources, provided one-on-one training, and work daily with the students throughout their employment.
Deborah Doub, WFU Satellite Job Coach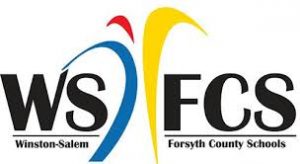 "Our students make really good employees."
Reaching out to other Wake Forest University departments is one of Mrs. Doub's main goals to expand the program.  She has been working over the past year with WFU Aramark Services, and they plan to hire a few student employees for the upcoming year.  In her role, Mrs. Doub works one-on-one with the students to help "…find what motivates them."  Her dream for the future includes expanding to other universities in the area and partnering with neighboring county school systems.  She wants to encourage them to start their own Satellite Programs.
This year, Wake Forest placed around 23 students in various paid positions; such as: "custodians, fleet service attendants, groundskeepers, sanitation and surplus assistants."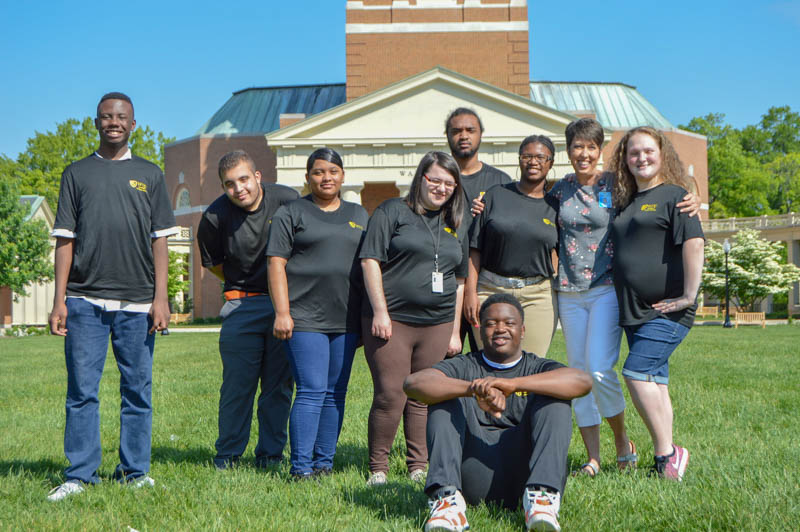 Pictured: Treyvez George, Jihad Ali, Diana Toribio, Lee Ann Ingle, Sean Wells, Nautica Washington, Izaiah Blue, Deborah Doub (WFU Satellite Job Coach), and Sierra Davis
When working and/or meeting with the students, it is always fun to find out more about their individual personalities. One of our student employees, Jihad Ali, regaled everyone with one of his infamous jokes at one of our departmental events:
"Why did the cookie go to the doctor?                                                  … because he was feeling crummy."
Another student employee, Bruce Avelar, stated that he learned "how to properly complete an oil change and use a tire balancer" while working in the F&CS Fleet Services department. The students all mentioned their praise and compliments to F&CS; however, Bruce stated it best: "Everyone always motivated me to keep pushing myself forward!"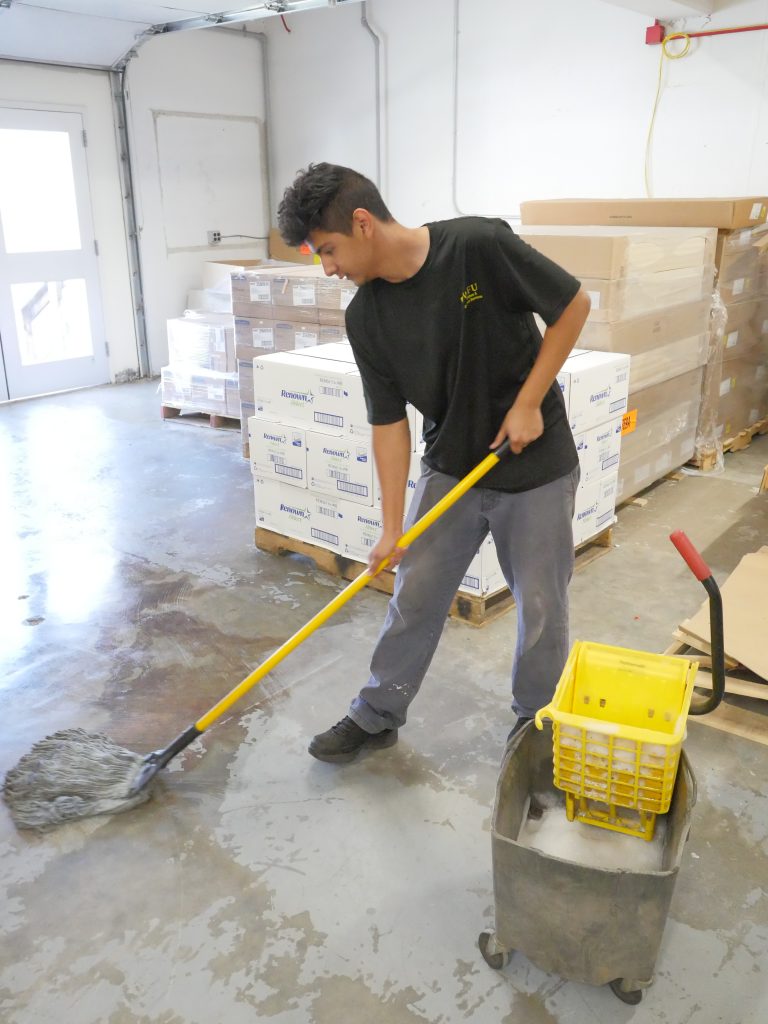 Pictured: Bruce Avelar (Fleet Services Satellite Student)
It has been an amazing opportunity to watch the student employees over the past year blossom into aspiring young adults. When they first arrived on campus, they were sometimes quiet and timid, but by the end of their semester and/or year: they were outgoing and confident Wake Forest University employees. It has been a joy to see these students grow and succeed – and our department will continue to wish them the best as they graduate and pursue future careers.
To read more about the history of the Satellite Program, please visit: https://inside.wfu.edu/2015/06/the-satellite-program-lets-all-be-winners/
Graylyn was awarded for work with exceptional children in 2012. Read more at: https://inside.wfu.edu/2012/06/graylyn-awarded-for-work-with-exceptional-children/
Wake Forest University was named Employer of the Year for a second time in 2016. Read more at: https://inside.wfu.edu/2016/11/wake-forest-university-named-employer-of-the-year/
Recent Posts
February 21, 2020

December 10, 2019

October 22, 2019