Main Content
Location
27 W. 30th Street,
Winston-Salem, NC 27105
Faculty & Staff Shopping Hours
Surplus Shopping hours will take place during the Fridays of the weeks listed on the right. You may still contact Alan Winkler for an appointment at the Surplus Warehouse.
Reduced Work Order Hours
Surplus is working on reduced hours due to the Coronavirus Outbreak. Pickups and moves have been rescheduled to the following weeks:
March 30 – April 3
April 13 – April 17
April 27 – May 1
May 11 – May 15
May 25 – May 29
June 8 – June 12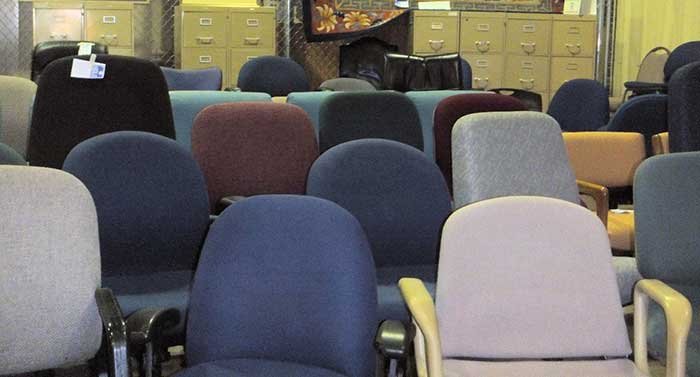 Surplus Coordinator
Alan Winkler
c: 336.251.8635
o: 336.758.4071
The WFU Surplus Property Program collects property from departments that no longer need it and redistributes it to departments that do need it. Our primary goal is to maximize reuse of University property and minimize the quantity of property that ends up in our landfills.
Since the Surplus Program began in 2011 . . .
Over 3000 individual items having been repurposed and reused within WFU Departments.
Over 3600 individual items having been gifted to local charitable organizations or otherwise moved into the community to continue their useful life.
Additionally, metal items with no further re-usefulness totaling over 54 Tons have been recycled through the WFU Surplus Program.
Electronic and electrical items collected and responsibly recycled have amounted to over 14.7 tons for equipment diverted from landfills.
That's over 317 Tons of merchandise repaired, recycled, re-purposed, re-used and diverted from the landfill!
We offer the following surplus property services:
Collection of surplus furniture (desks, chairs, tables, etc.) and equipment (laboratory equipment, etc.)
Delivery of surplus to departments upon request
Note: Do not throw broken property in the trash! Have Surplus Property pick it up instead.
Still have questions? Check out the Surplus Guidelines.
Work Order Request
Work Order Requests are processed Monday-Friday, 8 a.m.-4:30 p.m.
For immediate assistance or emergencies, contact us immediately at 336.758.4255.